The most traded NFTs of the past week were virtual real estate properties. These assets, which are created by HyprPlay Games and sold on their platform Sentrium, have only been available for trading since last month. Despite this limited availability in the market, they were still one of the top 5 most traded digital items according to data from CoinMarketCap.
"Netvrk land sale" is a virtual real estate property that was the most traded NFTs of the past week. The property had a price of $0.00 and sold for $1,000,000.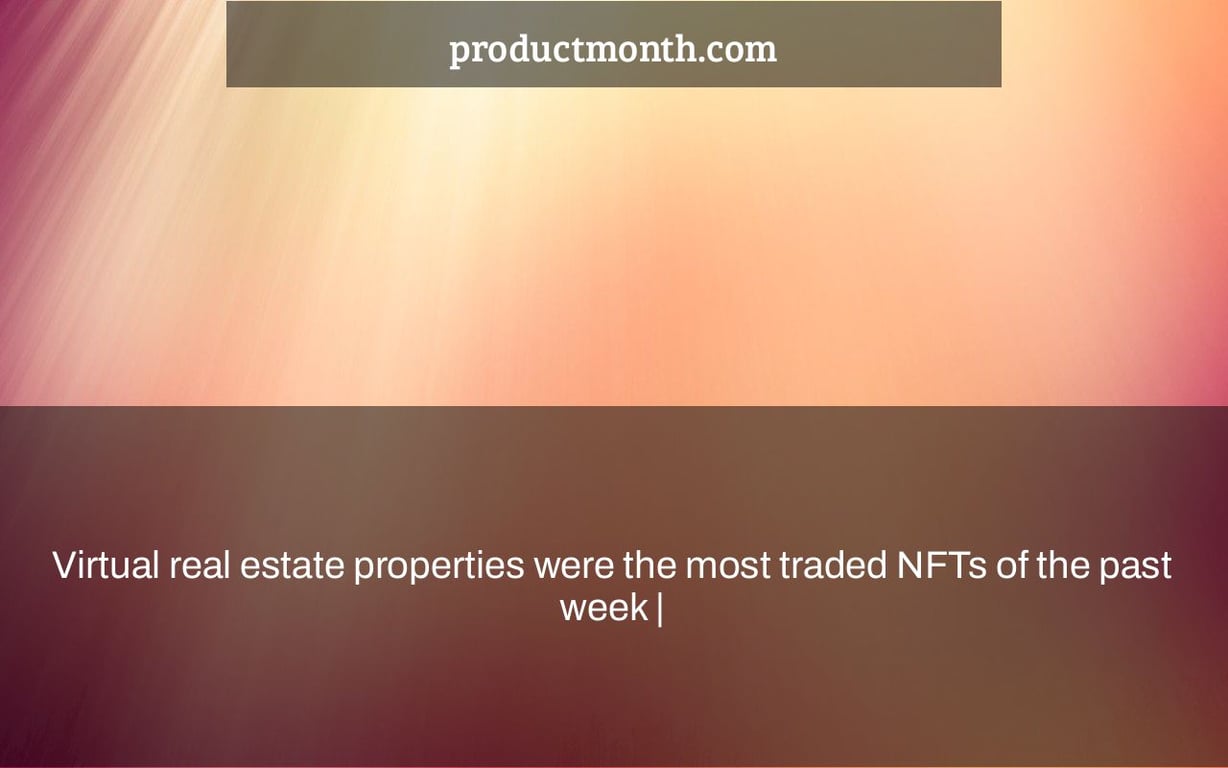 Digital lands have been in great demand over the last seven days. According to NonFungible, which is cited below, The Sandbox was the most traded NFT over the last week, with a total of $70.5 million sales, topping out the Bored Apes and CryptoPunks with $58.4 million and $17.5 million, respectively.
The top five connected metaverse NFT collections were related to virtual real estate sales on the Ethereum blockchain, and the digital lands sales constituted over 25% of total NFTs sales last week, including Decentraland with $6.6 million in sales.
What is The Sandbox, exactly?
According to The Sandbox official GitBook, Sébastian Borget and Arthur Madrid created The Sandbox as a mobile game in 2011. In 2018, the project changed its version and began using blockchain technology as a 3D multiplayer game in a virtual world where players can earn money with its utility token SAND. This metaverse is built on LANDS, with only 166,464 LANDS available.
Last week was a huge week in The Sandbox metaverse, with a home selling for $4.3 million and a boat selling for $650,000. According to The Sandbox's website, the company has recently teamed with Adidas and has previously worked with celebrities such as Snoop Dogg and global DJs/producers Deadmau5 and Richie Hawtin.
Is purchasing digital real estate comparable to purchasing Manhattan real estate in the 1600s?
According to History Today, in 1626, Peter Minuit of the Dutch West India Company purchased Manhattan Island from local Indians for 60 dutch guilders, which was ultimately worth roughly $24, and it was one of the largest real estate bargains in history.
Tokens.com purchased 116 plots valued around $2.4 million in the heart of Fashion District in Decentraland's metaverse two weeks ago, seeking for a good location property, making it the metaverse's biggest land sale deal.
"We're overjoyed to have completed the greatest public metaverse land purchase to date." Metaverse Group's current portfolio of metaverse real estate will be supplemented by these properties. Tokens.com CEO Andrew Kiguel expressed his delight at his subsidiary's successful completion of this historic digital real estate transaction.
With all new recognized collaborations and strong demand for digital real estate lands on the metaverse worlds, notably in The Sandbox and Decentraland, it seems that many firms are headed in the direction of the digital world.
What if, in years to come, instead of shopping for luxury products on the Champs-Élysées or Fifth Avenue, we went to a metaverse's major fashion street? Like a result, the true visionaries are firms or individuals that purchase lots, as Peter Minuit did in Manhattan in 1626.
NFTs, Metaverse, NFTs, NFTs, NFTs, NFTs, NFTs,
Newsletter
The most relevant daily news in the worlds of crypto, DeFi, NFTs, and more are summarized here.
Gain a competitive advantage in the cryptoasset market.
As a premium Edge member, you'll get additional crypto insights and context in every story.
Analyses of the whole chain
Snapshots of prices
a little more context
For just $19 a month, you can become a member right now. Examine all of the advantages.
Watch This Video-
Virtual real estate properties were the most traded NFTs of the past week. The "what is virtual land" are digital assets that represent ownership of a piece of a 3D game world. With over $3 billion in market capitalization, virtual land has become one of the most popular cryptocurrencies.
Related Tags
land nfts
largest decentraland purchase
decentraland land price history
virtual land purchase
big time land sale